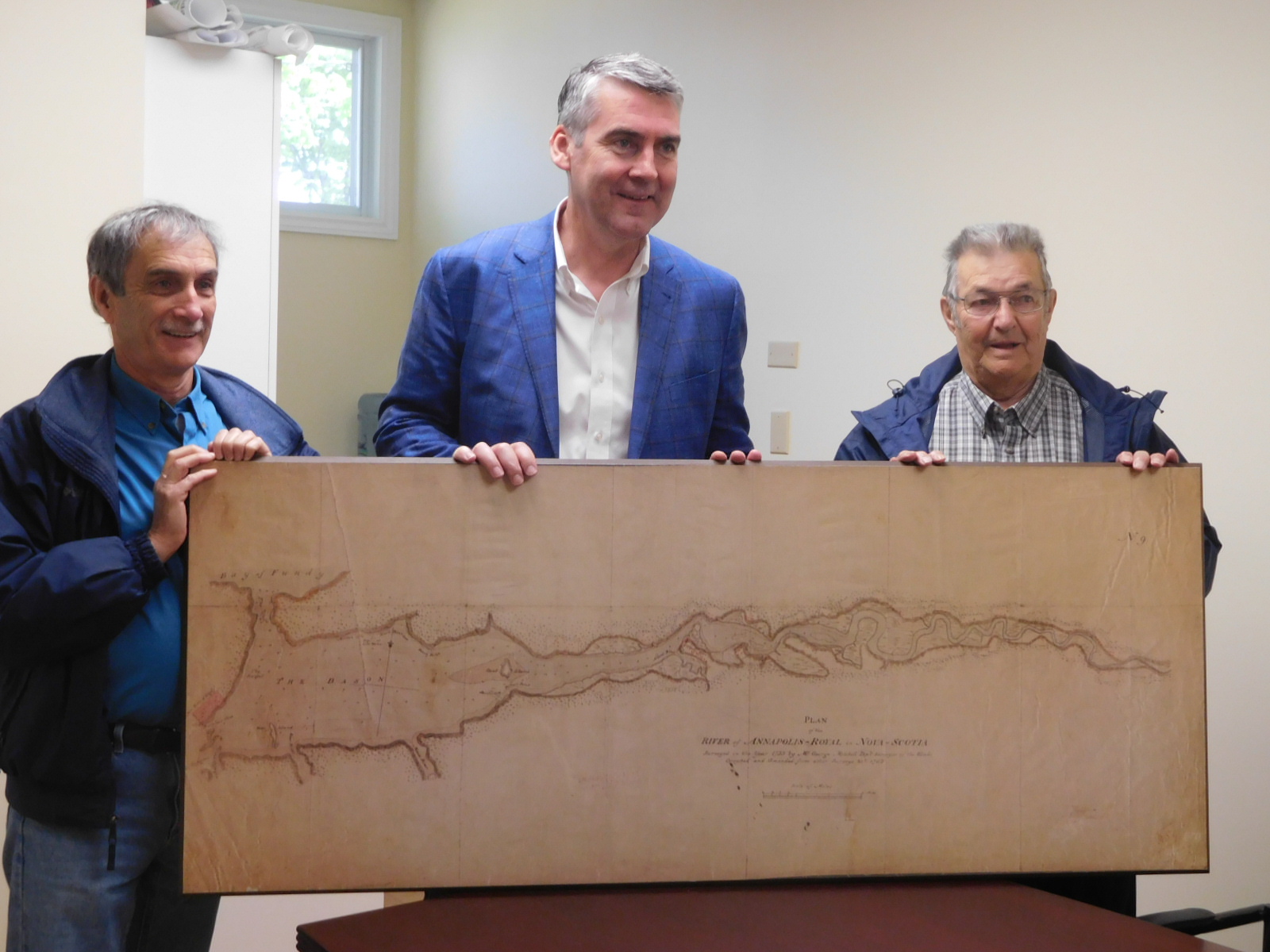 On May 28th, 2018, members of the Nova Scotia LeBlanc Family Association had a follow-up meeting with Stephen McNeil, Premier of the Canadian province of Nova Scotia. The discussions focussed on having his government doing more trail and road maintenance within the Belleisle Marsh area.
At this same meeting, a reproduced copy of the 1753 Michell Map was shared with Premier McNeil. The map shows (between today's communities of Digby and Bridgetown) where the first French colonist families set roots in "Acadie" in the early 1600 up to 1755.
Discussions continue with the premier's office to have his Department of Natural Resources improve site conditions within the Belleisle Marsh area where many of the first Acadian families lived. farmed, and prospered for many years until the 1755 deportation.
The Nova Scotia Leblanc Family Association encourages all Acadians who are searching for their family roots to visit the Daniel LeBlanc & Francoise Gaudet ancestry monument in Belleisle, Nova Scotia, Canada.
Le 28 mai 2018, des membres de L'Association de la Famille Leblanc de la Nouvelle-Écosse ont tenu une réunion de suivi avec Stephen McNeil, premier ministre de la province Canadienne de la Nouvelle-Écosse. Les discussions ont porté sur le fait que son gouvernement ferait plus d'entretien des sentiers et des routes dans le secteur du marais Belleisle.
À cette même réunion, une copie reproduite de la carte Michell de 1753 a été partagée avec le premier ministre McNeil. La carte montre (entre les communautés actuelles de Digby et de Bridgetown) où les premières familles de colons français ont pris racine en Acadie au début des années 1600 jusqu'en 1755.
Les discussions se poursuivent avec le bureau du premier ministre pour que son ministère des Ressources naturelles améliore les conditions du site dans le secteur du marais Belleisle où vivaient bon nombre des premières familles acadiennes. Cultivé, et a prospéré pendant de nombreuses années jusqu'à la déportation de 1755.
L'Association de la famille Leblanc de la Nouvelle-Écosse encourage tous les Acadiens qui recherchent leurs racines familiales à visiter le monument d'ascendance Daniel LeBlanc et Françoise Gaudet à Belleisle, Nouvelle-Écosse, Canada.