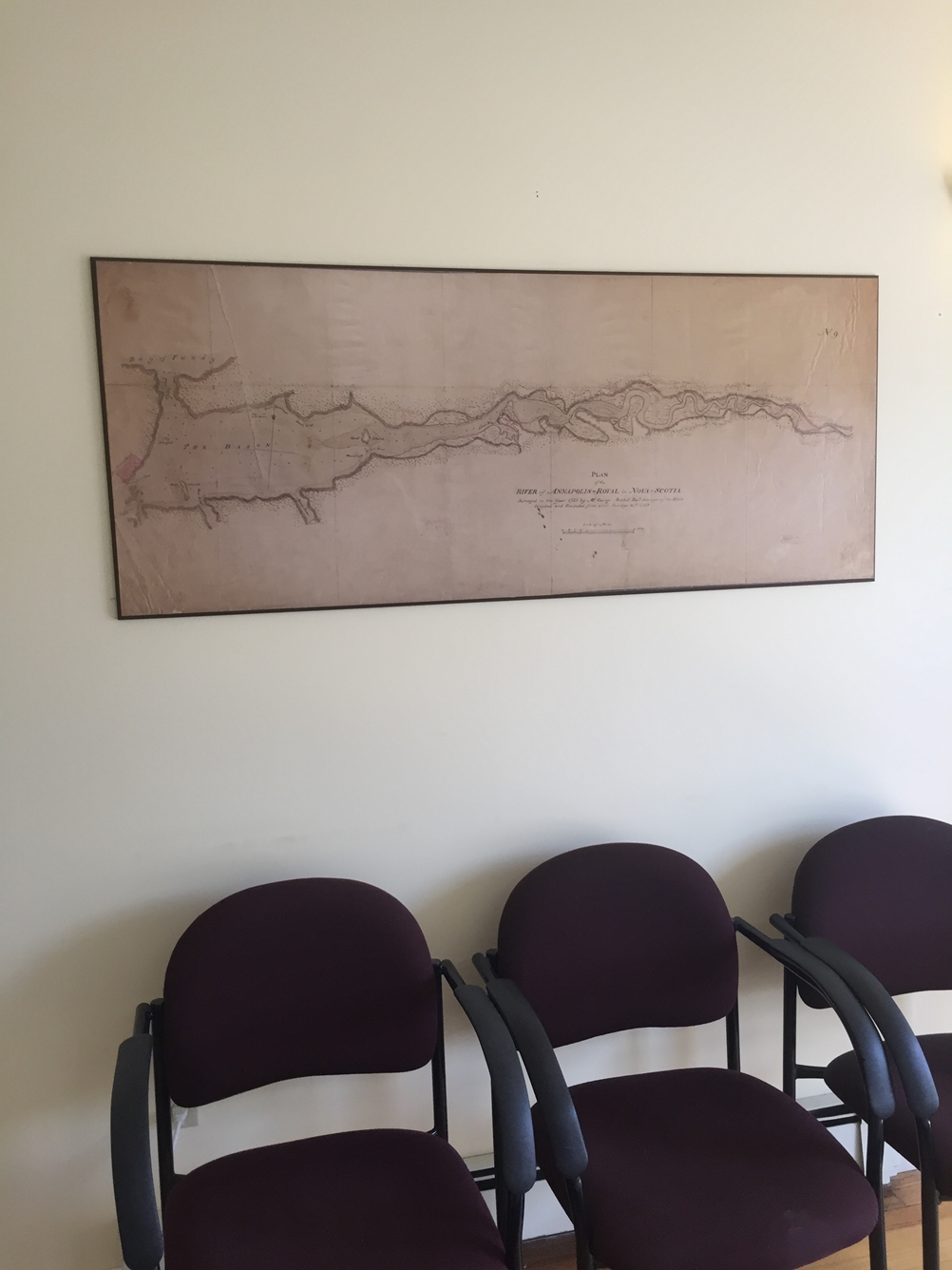 A copy of the Mitchel 1753 Plan of the River of Annapolis Royal is displayed in the Nova Scotia Premier's office in Middleton, Nova Scotia. This plan was prepared by George Mitchell in 1733 and updated in 1753. The map shows where Acadian villages and houses (in what is called today Digby, Annapolis Royal, Belleisle, Bridgetown, Paradise areas) were located prior to 1755. Many thanks to the premier's office staff for displaying this map that contains historical Acadian information.
It must be noted that due to information related to the locations of houses identified in the Mitchell Map, extensive research has been conducted by archaeology experts on artifacts found while conducting digs on Acadian houses remains within the Belleisle Marsh area. More information can be found in the research section of the LeBlanc Monument website.
(Please scroll down to page 9 of the news section and review Nova Scotia Museum reports for additional information)
Un exemplaire du plan Mitchell 1753 de la rivière d'Annapolis Royal est affiché dans le bureau du premier ministre de la Nouvelle-Écosse à Middleton, en Nouvelle-Écosse. Ce plan a été préparé par George Mitchell en 1733 et mis à jour en 1753. La carte montre où se trouvaient avant 1755 des villages et des maisons acadiennes (dans ce qu'on appelle aujourd'hui les communautés de Digby, Annapolis Royal, Belleisle, Bridgetown, Paradis). Merci beaucoup au gens du bureau du premier ministre pour afficher cette carte contenant des informations historiques Acadiennes.
Il faut noter qu'en raison de l'information sur l'emplacement des maisons identifiées dans la carte Mitchell, des experts en archéologie ont mené des recherches approfondies sur des artéfacts trouvés lors de fouilles dans des maisons acadiennes dans le secteur du marais Belleisle. Plus d'informations peuvent être trouvées dans la section de recherche du site Web de Monument LeBlanc.
(Veuillez vous rendre à la page 9 de la section des nouvelles et consulter les rapports du Musée de la Nouvelle-Écosse pour obtenir de plus amples renseignements.)